4K/30HZ HDMI Fiber Extender------Fiber Extender 10KM
KWO T4F advances its HDTools™ lineup with the "T4F" Ultra-HD/4K HDMI over Single Fiber Extender. An industry first, the T4F provides extension of Ultra-HD/4K HDMI v1.4b with full HDCP compliance up to 10 KM, as well as USB up to 10 KM, all over a single SingleMode fiber cable.

Smaller is Better
The T4F transmitter and receiver modules feature a sleek, compact casing with mounting attachments for ease of installation. Together with full KVM operability, the T4F is the most complete and reliable solution for long-distance Ultra-HD/4K signal transmission.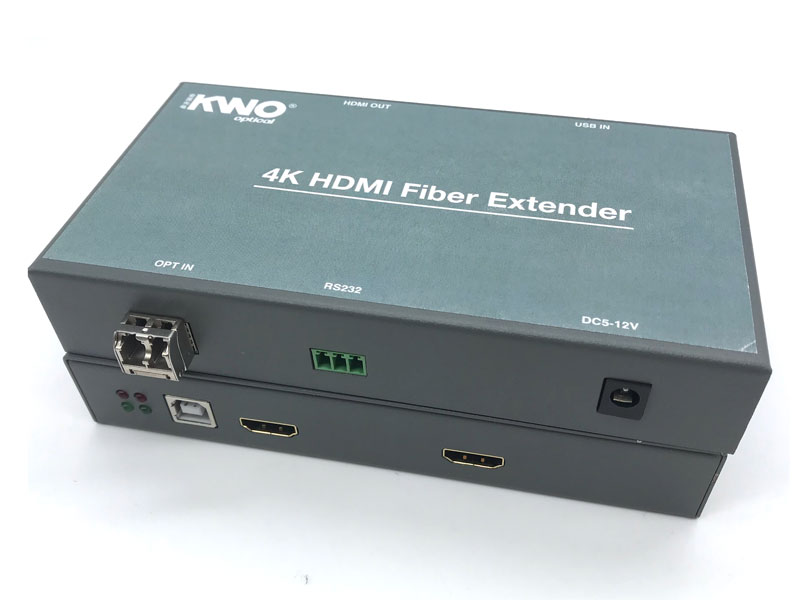 HDMI 1.4b Compatibility: Ultra HD 4K transport and extension

USB extension for full KVM operations

Single Fiber provides 10 KM HDMI 4K distance

Styled casing with bottom mounting attachments
Self-service Ticketing Kiosks (airports, movie theaters, etc.)

Informational Kiosks (museums, galleries, exhibitions)

Bank ATMs

Digital Signage

Interactive White Boards
General Specifications

Transmitter (2.35W), Receiver (2.1W)

150 x 30 x 70 mm (W x H x D)

50/125um Multi Mode Fiber [OM3]
T4F Optical HDMI Extension Module: One (1) pair (Tx, Rx)

12/5V AC-DC Adaptor: Two (2) unit

User's Manual

Optional Product: Fiber and 4K HDMI Cable
1) T4F: HDMI 4K 30HZ Over fiber extender 10KM
2) T4F KM: HDMI+USB 4K 30HZ Over fiber extender 10KM